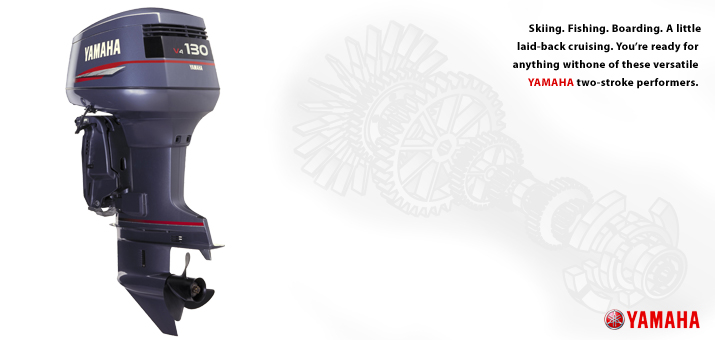 130 BETOL V4 Outboard Motor
The Yamaha 130 BETOL is a 2stroke 130 hp V4 outboard motor with electric start power trim & tilt and Oil injection
With Yamaha`s compact but powerful 130hp V4 outboard motor, you will appreciate the sure starting of micro-computer controlled ignition and the high output alternator.
And to make sure you stay in command and trouble-free all the way Yamaha s Digital Multifunction Gauges and Warning system monitor all vital engine functions.
Features:
Micro-computer control
Yamaha s Micro-computer Control system constantly monitors engine conditions adjusting ignition timing and fuel air mixture to deliver maximum performance. It also guards against stalling knocking over-revving overheating detonation and lack of lubrication to prevent engine damage.
Loop Charging
Loop-charge scavenging creates a circular flow for efficient removal of exhaust gas and even distribution of the air-fuel mixture. The result is greater combustion efficiency for higher power and better fuel economy.
Engine
Type: 2 stroke
Engine Type: V4
Displacement: 1730cc
Output : 95.6kw/130hp
Compression Ratio: 6.8
Gear Ratio: 26/13 (2.0)
Weight :171kg
Bore x Stroke: 90x68mm
Max Operating Range: 5000-6000rpm
Induction system: loop charging
O/M Transom Height: 515mm/20.3in