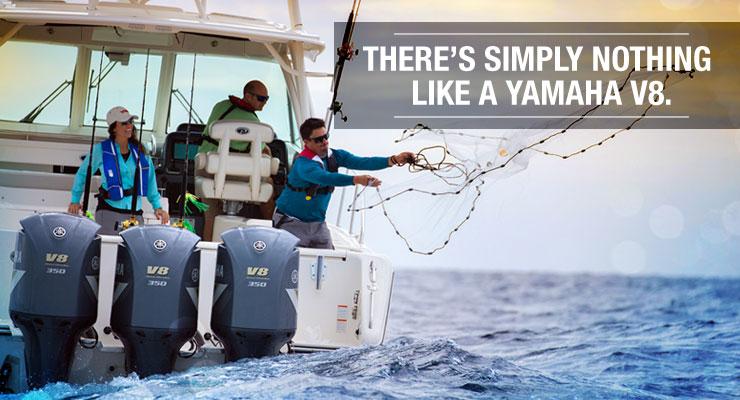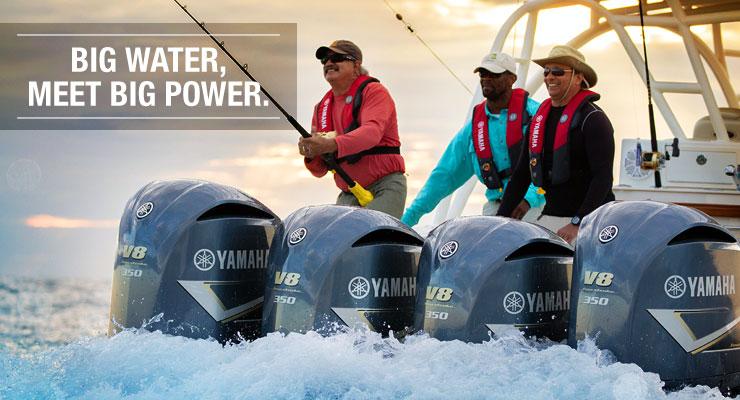 V8
Outboard Motors
F350c
GET THE BEST AND FORGET THE REST.
Yamaha's purpose-built 5.3-liter 350-horsepower V8 outboard surges to the front of the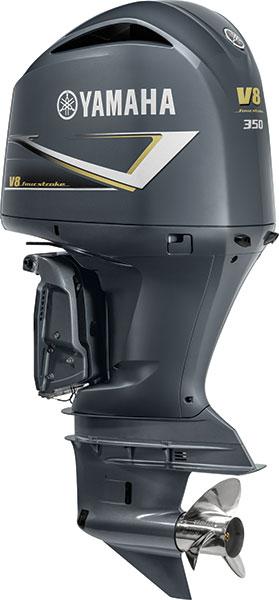 fleet when it comes to thrust and trust for moving big, offshore beasts. Now Yamaha's new F350C model becomes the only outboard in its horsepower class to feature a five-year limited warranty, because reliability and confidence are important when you're taking control of the open water.
Wave-Crushing Power
The world's first 5.3-liter four stroke outboard, the F350C
provides unparalleled displacement and up to 45% more thrust than 250hp-class outboards. When it launched in 2007, its industry-rocking 60° DOHC, and 32-valve, 5.3-liter design redefined offshore power. It's taken almost five years for the competition to even remotely catch up.
Torque Curve Benefit/Power-to-Plane:
Variable Camshaft Timing advances and retards the angle of the intake camshaft to dramatically increase power and throttle response in the low- and mid-rpm ranges. This gives the engine substantially greater torque between 2000 ~ 3500 RPM—and if you have a large offshore boat, torque is what matters. It's the power to plane and move a large offshore craft—and owners will tell you nothing does that like a Yamaha V8 F350C.
Deep-Water Durability
To handle the incredible power of the F350C, its Ultra-Tough Gearcase features hardened gears and high-strength, oversized bearings and bearing surfaces. It also features strong, forged motor mounts and an oversized bracket specifically designed to harness its massive power and thrust while minimizing vibration and noise.
Here is our East Yamaha Coast Marine Contact Details . All Prices are POA.
Call Our Office at 031-563-3917 or Email Us: admin@eastcoastyamaha.co.za to find out more information. Or Come Visit at