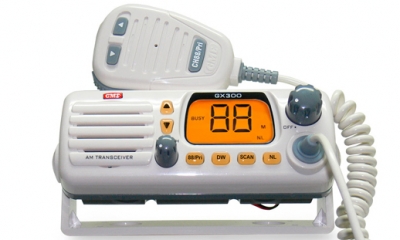 GX300 27 MHz CB/Marine Radio
The GX300 is an innovative new design incorporating both 27 MHz Citizen Band and 27 MHz Marine Band transceivers into one unit. Channel recall, dual watch, large back-lit display, very effective noise limiter and environment protected design (IP55) the GX300 covers virtually all aspects of 27 MHz communication on land or sea in one unit. The front mounted speaker provides loud clear reception and the channel controls on the microphone make operation easy.
The GX300 is supplied with a gimbal mounting bracket, but with a depth of just 70 mm, the GX300 is also perfectly suited to flush mounting (using the optional flush mount kit).
Available in either black or white, the GX300 allows the user to easily switch between CB and marine mode. The compact design is approximately one-third the depth of all other 27 MHz radios, allowing for shallow flush mounting installations.
Features
Large back-lit LCD display with lamp dimming function
Dual watch feature
Rotary squelch control
Ingress protection to IP55
Programmable memory channels scan
Remote channel change function microphone
Advanced noise limiter (NL) circuitry
Multiple mounting options (flush or gimbal mount)
User selection of 27 MHz CB or 27 MHz marine channels
Front mounted speaker
Priority channel selector key
Available in black or white
Supplied with:
GX300 radio
Mounting bracket
Gimbal knobs
DC power lead
Fuse
Microphone
Microphone clip
Screw pack
Instruction manual
Cover
R TBA inc. Radio cover